Polymer Systems
Technology Limited
ADVANCED ENGINEERING
Optoelectronics:
Electronics:

GEL-8136
Gels
Tacky Silicone Gel
DESCRIPTION
Clear, tacky silicone gel
Easy mixing two-component, low viscosity system
1:1 Mix Ratio (Part A:B)
Platinum Cure
APPLICATION
Ideal for casting, calendering, and backfilling.
Suitable for applications requiring a clear, tacky, firm silicone gel
For use as an embedding or potting compound for protection of electronic assemblies and components from environmental contamination
Provide excellent stress relief for thermal cycling of sensitive components such as wire bonds and thin wafers
Electrically insulating and non-conductive
Ideal for potting and filling intricate assemblies, LCD bonding, and has excellent adhesion at various thickness for tapes.
Ideal for use in automated dispensing equipment
PROPERTIES

| | |
| --- | --- |
| Uncured: | |
| Appearance | Colorless |
| Viscosity | 450 cP (450 mPas) |
| Viscosity after 1 hr | 1,500 cPs maximum |
| Cured: 60 minutes at 140°C (280°F) | |
| Penetration (51g shaft, 1/8 inch foot, 5 seconds) | 14 mm |
| Surface-Tack Test | 12.0 psi (82 kPa) |
The above properties are tested on a lot-to-lot basis. Do not use as a basis for preparing specifications. Please contact NuSil Technology for assistance and recommendations in establishing particular specifications.
Recommended Primer CF1-135

Note: Some bonding applications may require the use of a primer.
Packaging

50 ml SxS Kit
2 Pint Kit (910 g)
2 Gallon Kit (7.28 kg)
10 Gallon Kit (36.4 kg)
2 Drum Kit (340 kg)
2 Tote Kit (2,000 kg)

Warranty

12 Months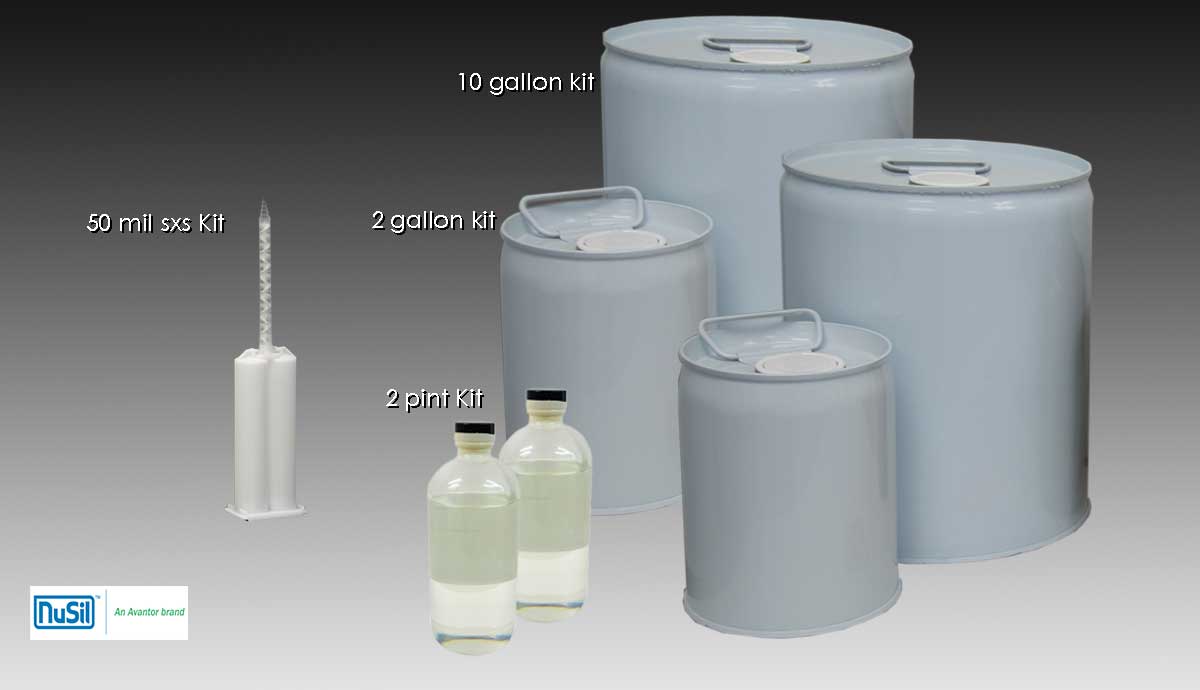 Example packaging