Polymer Systems
Technology Limited
PREMIUM CARE SILICONE A CLASS OF ITS OWN
LUBRICIOUS COATINGS - SPECIALTY DISPERSIONS
PRODUCT
NUMBER
VISCOSITY
cSt (mPa·sec)
SOLIDS CONTENT
%
SOLVENT
COMMENTS
MED10-4161
150 (129)
33
XYLENE
Amino functional silicone coating
MED-4159
185 (159)
53
STODDARD SOLVENT / IPA

Amino functional silicone coating

MED10-6670
-
25
XYLENE
Dry permanent coating
MED10-6671
-
7.0
TERT-BUTYL ACETATE
RTV, low-friction coating
MED-4162
30,000 cP
31
XYLENE
Wax-like coating
LUBRICIOUS COATINGS - FLUIDS
PRODUCT
NUMBER
VISCOSITY
cP (mPa·sec)
VOLATILE CONTENT
%
COMMENTS
MED-359
0.65 - 1.0
-
A clear, volatile, silicone fluid
MED-361
100 - 100,000
< 0.5
Dimethyl polymer
MED-460
350 - 12,500
< 0.2
Methyl fluoro copolymer (high fluoro)
MED-420
350 - 100,000
< 0.5
Methyl fluoro copolymer (low fluoro)
MED-400
350 - 100,000
< 0.3
Fluorosilicone polymer
LUBRICIOUS COATINGS - GREASES
PRODUCT
NUMBER
VISCOSITY
cP (mPa·sec)
VOLATILE CONTENT
%
COMMENTS
MED-9011
95,000
< 1
Low consistency grease
MED-9021
300,000
< 1
Medium consistency grease
MED-9031
900,000
< 1
High consistency grease
MED-6731
2,070,000
0.17 %
High consistency methyl fluoro grease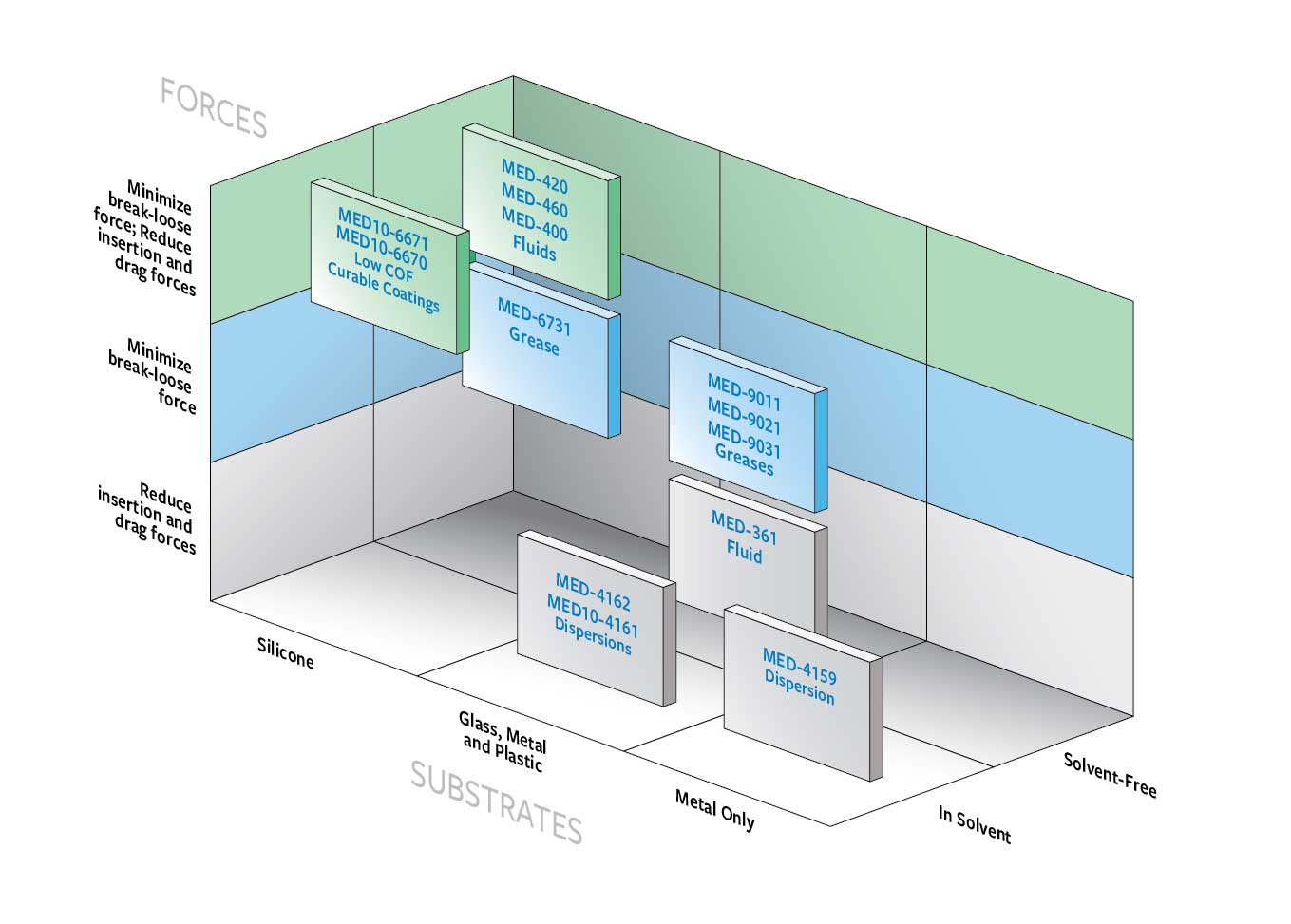 We have a variety of options for lubricious coatings. Our specialty dispersions offer a virtually non-migrating coating while our fluids provide a high degree of lubrication. Our dimethyl fluids are used for lubricating thermoplastic parts and our fluoro fluids are used to lubricate silicone parts. A blend of our dispersions and fluids can be created to increase lubricity.


Key Features of NuSil™ Lubricious Coatings:
Reducing the Coefficient of Friction and Insertion Force
Minimizing Break-Loose and Extrusion Forces
Hydrophobic Coatings
Siliconization & Lubrication
As used for coating hypodermic needles and cannulae!