Polymer Systems
Technology Limited
Life Science
Implant Line
MED-2000
Adhesives
Silicone Adhesive
DESCRIPTION
One-part, solvent-free silicone
Cures at room temperature upon exposure to atmospheric moisture
APPLICATION
Well suited for use as an adhesive for bonding and sealing silicone materials
For applications requiring the bonding of silicone to metals, urethanes and various other substrates
PROPERTIES

| | |
| --- | --- |
| Uncured: | |
| Appearance | Translucent |
| Extrusion Rate† | 2.5 g/min. |
| Tack-Free Time | 12 minutes |
| Cured: 72 hours minimum at ambient temperature and humidity | |
| Specific Gravity | 1.08 |
| Durometer, Type A | 25 |
| Tensile Strength | 1,375 psi (9.5 MPa) |
| Elongation | 800% |
| Tear Strength | 80 ppi (14.1 kN/m) |
| Stress at 200% Strain | 110 psi (0.76 MPa) |
| Tissue Culture (Cytotoxicity Testing) | Pass |
Properties tested on a lot-to-lot basis. Do not use the properties shown in this technical profile as a basis for preparing specifications. Please contact NuSil Technology for assistance and recommendations in establishing particular specifications.
† Performed using a Semco model 250-A pneumatic gun with a 14 gauge nozzle orifice and 90 ± 5 psi air pressure.
Recommended Primer MED-160

Note: Some bonding applications may require the use of a primer.
Packaging

8 Gram Tube
2 Ounce Tube (59 mL)
5 Ounce Tube (148 mL)
6 Ounce Semco® Tube
12 Ounce Semco® Tube

Warranty

12 Months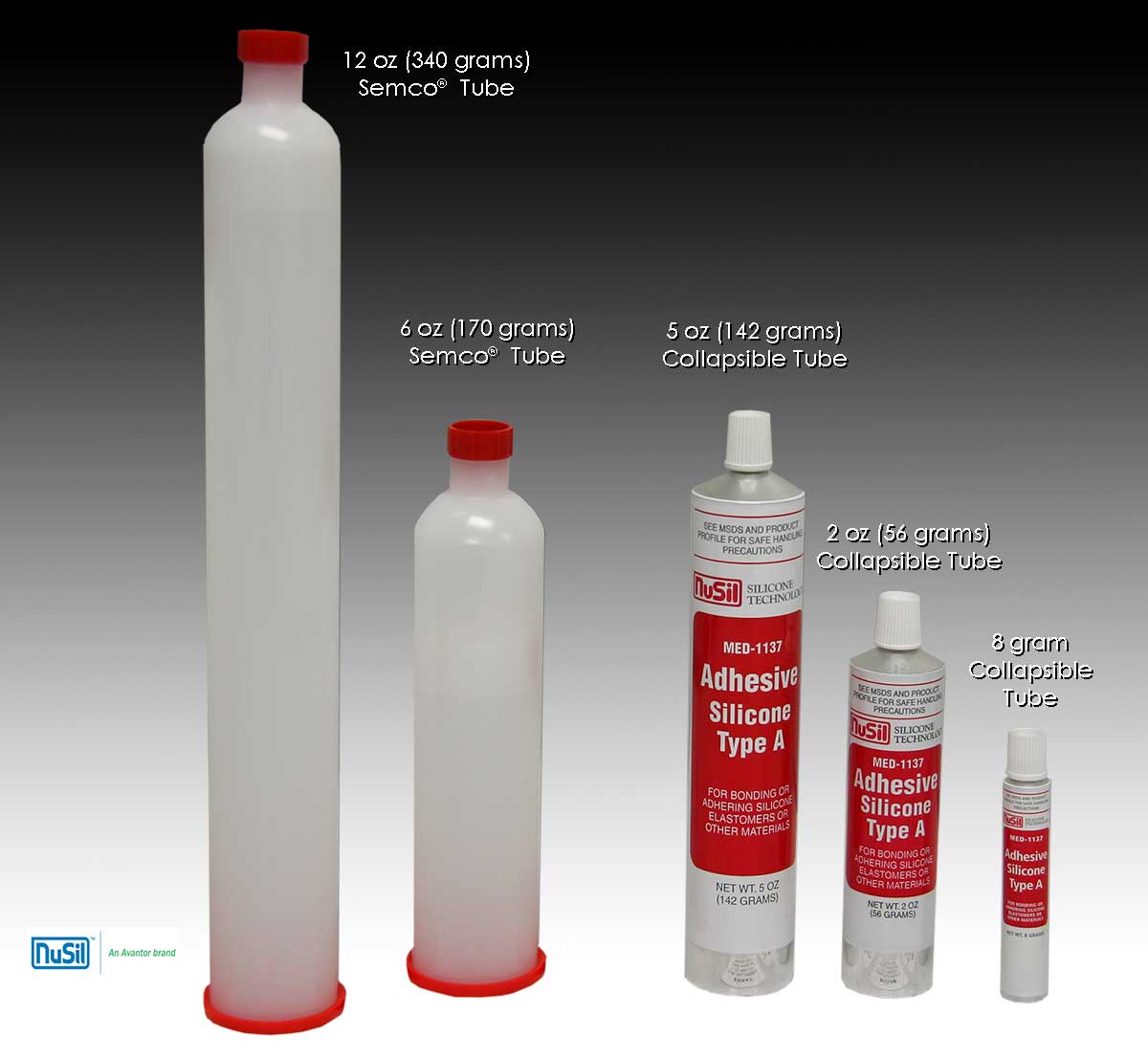 Example packaging
For Use With Adhesives/Sealants: