Polymer Systems
Technology Limited
Life Science
Premium Care:

MED-342
Simethicones
Simethicone
DESCRIPTION
A unique granular solid
Kosher and Halal certified
Easily blends with other tableting ingredients
Eliminates the cost and clean-up of applying liquid Silicone antiflatulents
Contains all Compendial grade components suitable for oral use
Can be combined with flavors and lubricants
Produced in registered drug facilities according to criteria set by the U.S. Food and Drug Administration
APPLICATION
Cited in FDA regulations 21 CFR 332.10 and 21 CFR 332.15 as a safe and effective over-the-counter drug for use as an antiflatulent to alleviate the symptoms of gas associated with heartburn, sour stomach, acid indigestion and post operative gas pain
Cited in FDA regulation 21 CFR 173.340 as being safe to use in food processing applications (refer to FDA regulation for allowable levels in specific food processing applications)
For the manufacture of single- or double-layer tablets
For forming uniform compositions in any concentration required
For effective, stable antiflatulence, even in the presence of aluminum and magnesium hydroxide
PROPERTIES

| | |
| --- | --- |
| Appearance* | White, free flowing, granular solid |
| Simethicone, USP Content* | 30% |
| Bulk Density | 0.4 g/mL |
| Particle Size (95% passes through 20 mesh, U.S. standard sieve) | 20-40 mesh (840-420 microns) |
| Percent Water* | 4.5% |
*Properties tested on a lot-to-lot basis. Do not use the properties shown in this technical profile as a basis for preparing specifications. Please contact NuSil Technology for assistance and recommendations in establishing particular specifications.
Packaging

100 lb. Net weight rectangular fiber-pack container (45 kg)

Shelf Life

12 Months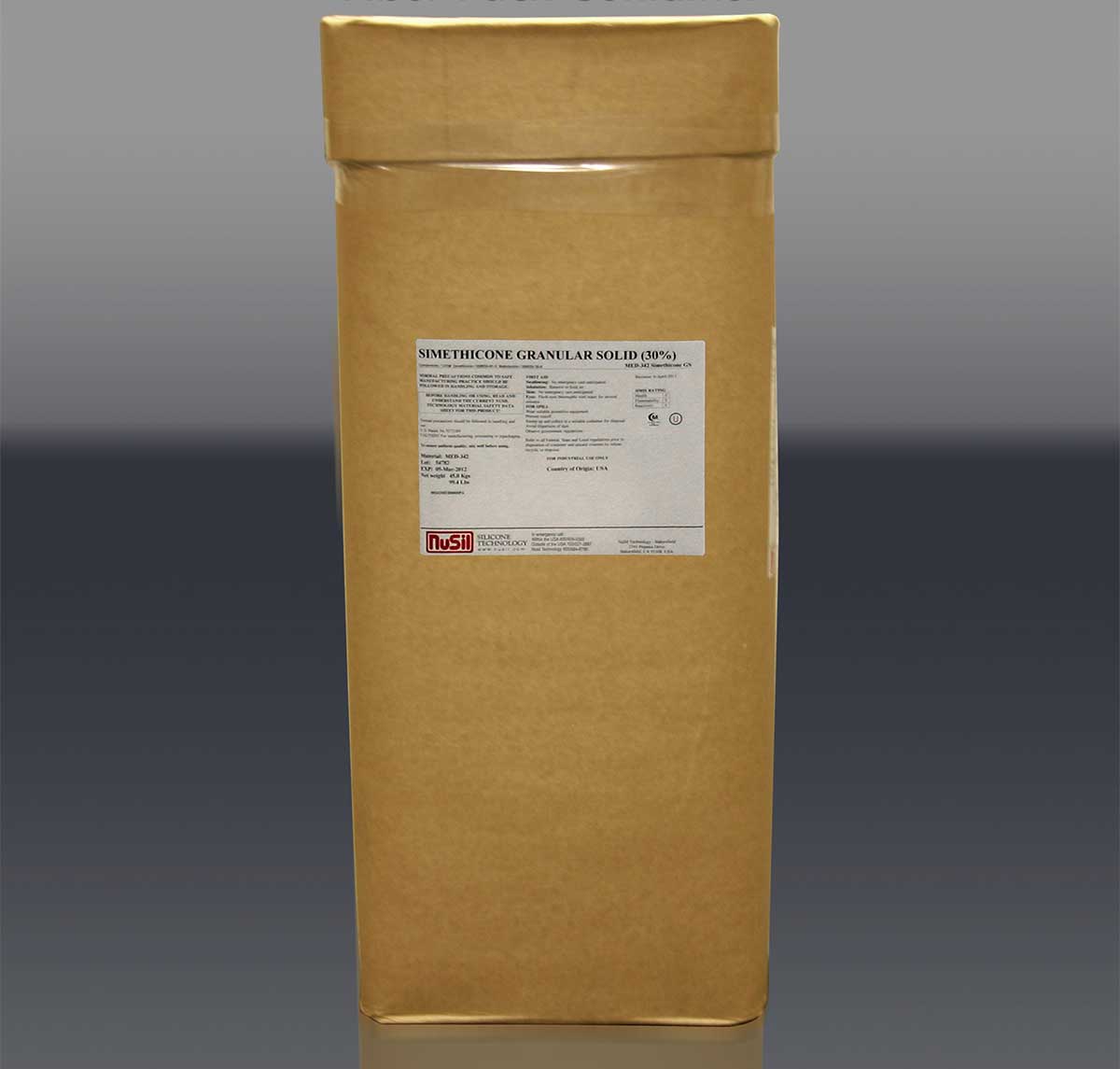 Example packaging