Polymer Systems
Technology Limited
Life Science
Premium Care:

MED-347
Simethicones
Simethicone Ep
DESCRIPTION
Designated by the FDA-OTC Antacid and AntiflatulentReview Panel as a safe and effective antiflatulent component of antacid and other gastrointestinal preparations
Kosher/Halal Certified
Chemically inert, therefore does not alter the characteristics of material to be defoamed
Outstanding behavior in alkaline systems
Easy to disperse in most aqueous and anhydrous foaming systems
Effective in low doses such as 1 to 100 mg per kg of material to be defoamed
Produced in a registered drug facility according to criteria set by the U.S. Food and Drug Administration
Produced in a facility compliant with Good ManufacturingPractices (FDA regulations 21 CFR Part 210 & 211 and ICH Q7)
Tested in accordance with and meets all the requirements of the European Pharmacopeia (EP) for Simeticone1
APPLICATION
Cited in FDA regulations 21 CFR 332.10 and 21 CFR 332.15 as asafe and effective over-the-counter drug to alleviate the symptoms of gas associated with heartburn, sour stomach, acid indigestion and post operative gas pain
Highly effective for control of foam in aqueous and anhydrous systems
For use in treatments for stomach pain
For use in antacid gels and radiological tracers
For use in treatments for ulcers and gas due to abnormal swallowing
PROPERTIES

| | |
| --- | --- |
| Appearance | Translucent gray, viscous fluid |
| Viscosity | 2,775 cP (2,775 mPas) |
| Simethicone, EP Content | 100% |
| Defoaming Test | 3 seconds |
| Loss on Heating | 0.2% |
| Heavy Metals (as Lead) | 5 ppm maximum |
| Mineral Oils | Pass |
The properties listed above are for reference only. Do not use the properties shown in this technical profile as a basis for preparing specifications. Please contact NuSil Technology for assistance and recommendations in establishing particular specifications.
Packaging

5 Gallon Pail (18.0 kg)
Drum (200 kg)
Tote (1000 kg)

Shelf Life

18 Months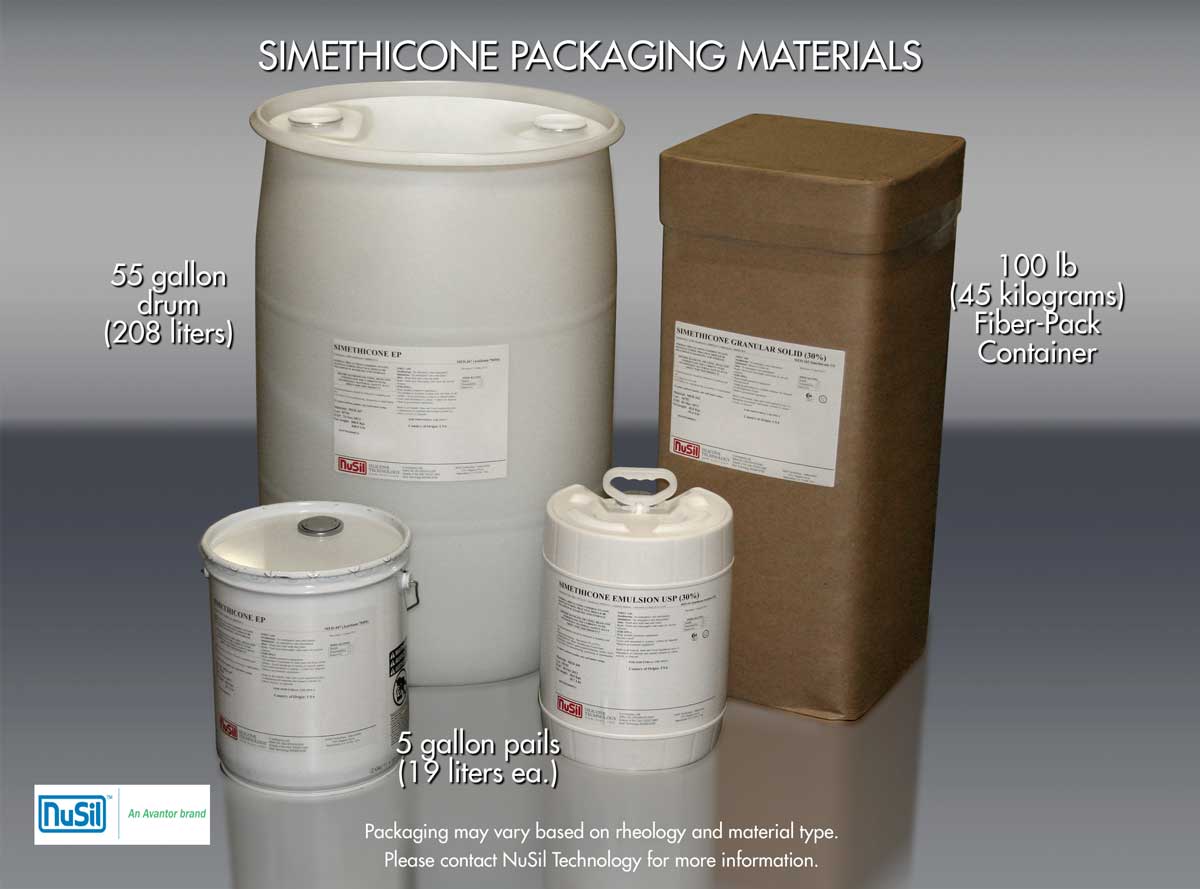 Example packaging