Polymer Systems
Technology Limited
Life Science
Premium Care:

MED-4082
VersaSil
High Consistency Silicone Elastomer
DESCRIPTION
A unique three-part system, VersaSil3 offers the flexibility of adjustable cure rate and table life for various fabrication requirements
High tear strength, wide processing parameters, and translucent, non-tacky surfaces
Can be compounded with CAT-40 inhibitor and CAT-55 catalyst for use as an Addition (Platinum) Cure system silicone
MED-4082 can be compounded with peroxide catalysts
APPLICATION
For high volume production with maximum flexibility
For a wide variety of fabrication techniques for the healthcare industry including: molding, calendering and extruding
PROPERTIES
Cured: 10 min. @ 116°C (241°F). Stabilize for 3 hours minimum at ambient temperature and humidity
Specific Gravity
1.22
ASTM D792
003
Durometer, Type A
80
ASTM D2240
006
Tensile Strength
1,150 psi (7.9 MPa)
ASTM D412
007
Elongation
900%
ASTM D412
007
Tear Strength
200 ppi (35.5 kN/m)
ASTM D624
009
Stress @ 200% Strain
400 psi (2.8MPa)
ASTM D412
007
Tissue Culture (Cytotoxicity Testing)
Pass
USP <87> ISO 10993-5
061
Elemental Analysis of Trace Metals
Pass
ASTM E305
131
The data above represents the properties of the product when cured using the Addition Cure System (CAT-40 and CAT-55).
These properties tested on a lot-to-lot basis. Please contact NuSil Technology for assistance and recommendations in establishing particular specifications.
Packaging

25 Lb Box (11.4 kg)
1000 Lb Gaylor (455 kg)

Warranty

12 Months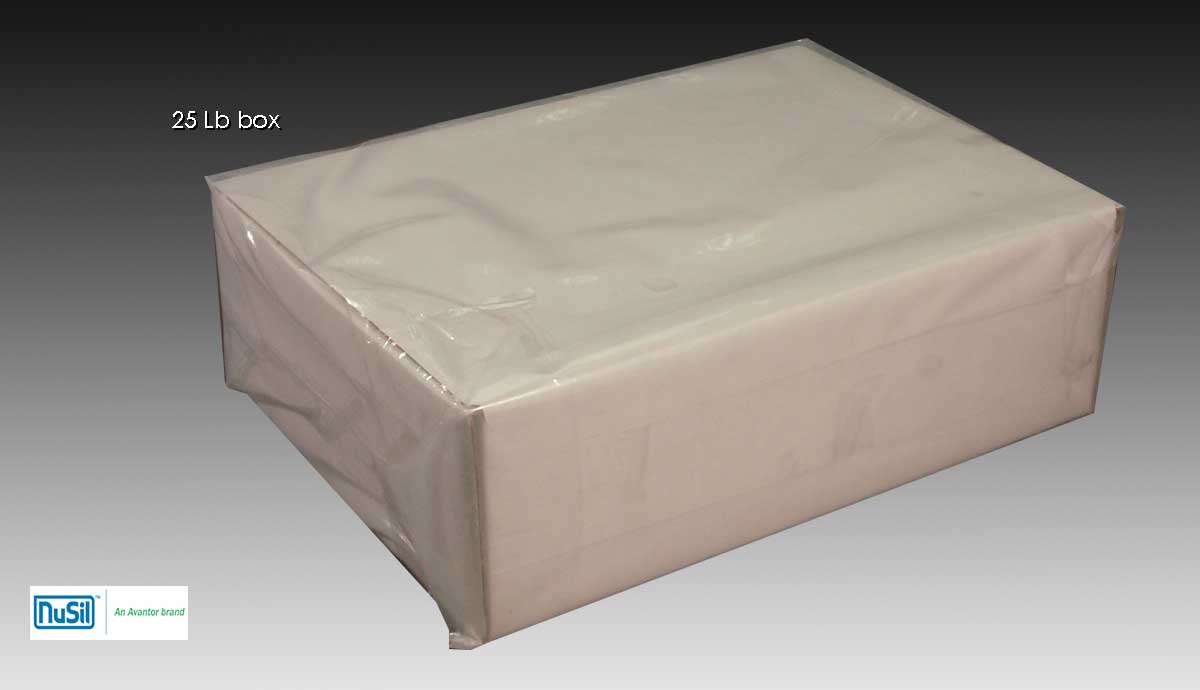 Example packaging
For Use With High Consistency Materials: