Polymer Systems
Technology Limited
Life Science
Premium Care:

MED-4727
Ultra High Performance
High Consistency Silicone Elastomer
DESCRIPTION
High tensile strength, low modulus high consistency silicone rubber
Low tensile set and low hysteresis qualities
Cures with heat via addition-cure chemistry
1:1 Mix Ratio (Part A: Part B)
APPLICATION
For a wide variety of fabrication techniques for the medical device industry including: molding, calendering and extruding
Useful in applications where low modulus and high strength are needed
PROPERTIES
Uncured:
Appearance
Translucent
Work Time (Pot Life) @ 25°C
2.5 hours
Cured: 10 minutes at 171°C (340°F).
Stabilize for 24 hours minimum at ambient temperature and humidity.
Specific Gravity
1.11
Durometer, Type A
30
Tensile Strength
2,300 psi (15.9 MPa)
Elongation
1050%
Tear Strength
235 ppi (41.2 kN/m)
Stress at 200% Strain
100 psi (0.69 MPa)
Tissue Culture (Cytotoxicity Testing)
Pass
Elemental Analysis of Trace Metals
Pass
These properties tested on a lot-to-lot basis. Please contact NuSil Technology for assistance and recommendations in establishing particular specifications.
Packaging

2 Pound Kit (900 g)
10 Pound Kit (4.54 kg)
50 Pound Kit (22.68 kg)
1,000 Pound Gaylord Kit
(453.6 kg)

Warranty

12 Months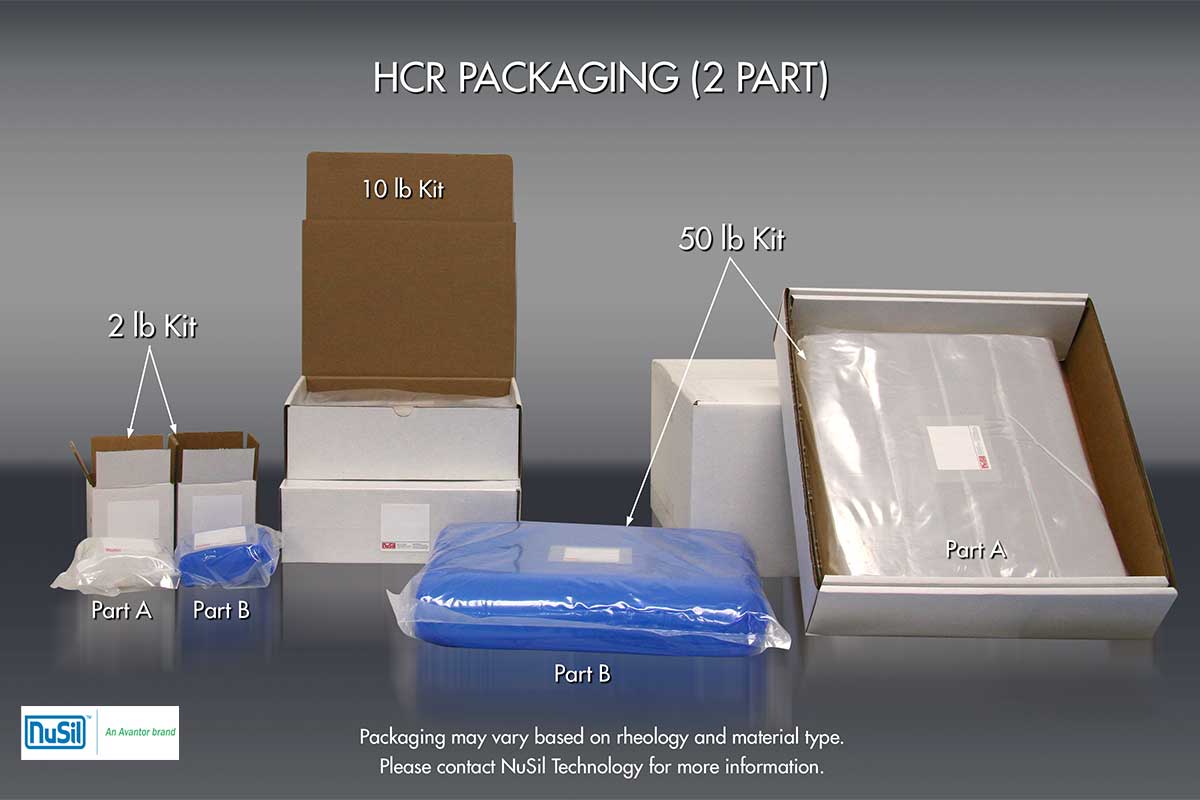 Example HCR Packaging (2 Part)
For Use With High Consistency Materials: